Dec 23, 2021
by Robert Gravelle
When the Navicat team added the Navicat Cloud collaboration tool a few years ago, little did anyone know that a global pandemic would make collaboration a vital part of most organizations - especially those who provide any kind of Information technology (IT) related services. Being where we are in the last days of 2021, it should come as no surprise that Navicat has expanded its cloud solutions for Navicat 16. Now, Navicat Cloud supports more objects, and Navicat has just introduced an On-Prem Server for businesses working with sensitive data. Today's blog will provide an overview of Navicat 16's improved collaboration features.
Navicat Cloud: More Objects Added
In case you weren't already familiar with Navicat Cloud, it provides a cloud service for synchronizing Navicat connections, queries, models and virtual groups from different machines and platforms. Whenever you add a connection to Navicat Cloud, it stores connection settings and queries. You can synchronize model files to Navicat Cloud and create virtual groups as well. All the Navicat Cloud objects are located under different projects for easy access. Besides helping you keep your objects synchronized across devices, Navicat Cloud facilitates project sharing with other Navicat Cloud accounts for collaboration.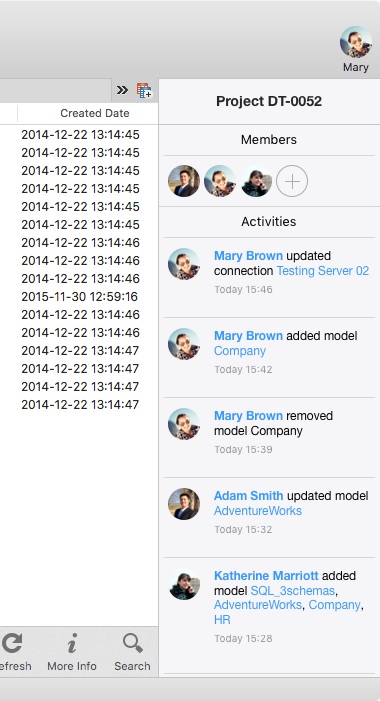 In addition to connections, queries, models and virtual groups, Navicat 16 adds Code Snippets and Charts workspaces to Navicat Cloud and the new On-Prem Server. Now you'll be able to save your Code Snippet and Charts workspace files to the cloud and share them across your Navicat products and with team members.
Introducing the Navicat On-Prem Server
Navicat On-Prem Server is an on-premise solution that provides you with the option to host a cloud environment for storing Navicat objects internally at your location. In the Navicat On-Prem environment, you can enjoy complete control over your system and maintain 100% privacy. It is intended for organizations who wish or need to maintain a level of control that the cloud often cannot provide.
In terms of functionality, Navicat On-Prem Server behaves very much like its Navicat Cloud counterpart. Hence, it can synchronize your connection settings, queries, models, snippets, chart workspaces and virtual group information across all your Windows, macOS and/or Linux devices. Files stored in Navicat On-Prem Server will automatically show up on Navicat Family and Navicat On-Prem Server Portal so that you can get real-time access from anywhere, anytime.
Navicat On-Prem Server is installed locally on your own servers and behind your firewall. Everything is run on the server with no third-party access. That way, you retain full control of security and data ownership within your environments. Moreover, all changes, configurations and upgrades may be performed at your sole discretion.
Conclusion
Today's blog provided an overview of Navicat 16's improved collaboration features.

Navicat Cloud and Navicat On-Prem Server are available on all Navicat products and all platforms including Windows, macOS and Linux.