Dec 30, 2019
by Robert Gravelle
Perhaps you've heard that version 15 of Navicat's flagship product, Navicat Premium, was officially released on November 25th. It comes packed with numerous improvements and features to address all of your database development and administration needs. In addition to over 100 enhancements, Navicat includes several new features to give you more ways that ever to build, manage, and maintain your databases. In the last blog, we explored the Data Visualization feature. Today, we'll be taking a look at other improvements, including Data Transfer, Query Builder, Data Modeler and more!
Data Transfer
Although Navicat already supports the transfer of database objects from one database and/or schema to another, or to an sql file, version 15 brings a whole new experience along with a number of new functions to the Data Transfer utility. The new design includes an intuitive interface for customizing the fields and specifying the number of rows you wish to transfer. For instance, you can choose specific fields to transfer and even change the field names. You can also limit the number of rows to transfer using custom filters.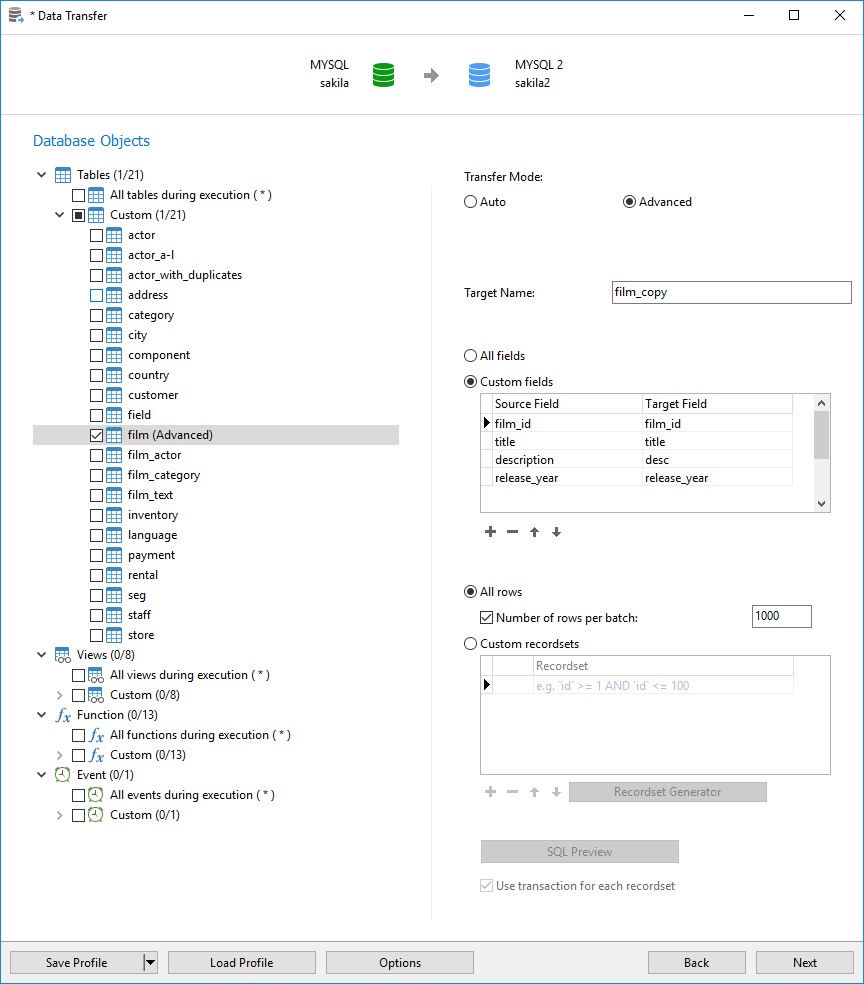 Perhaps even more importantly, Navicat 15's Data Transfer is designed to quickly migrate massive amounts of data - quick enough to accomplish the most complex transfers faster than ever before.
Query Builder
Navicat 15 introduces a whole new approach to writing SQL via the new Query Builder. Whereas version 12 showed all of the query syntax in one statement, version 15 breaks it down into clauses: Select, From, Where, Group By, Having, Order By, and Limit. Moreover, the resulting SQL statement is displayed in the right pane so that you can make modifications, should you make any syntax errors.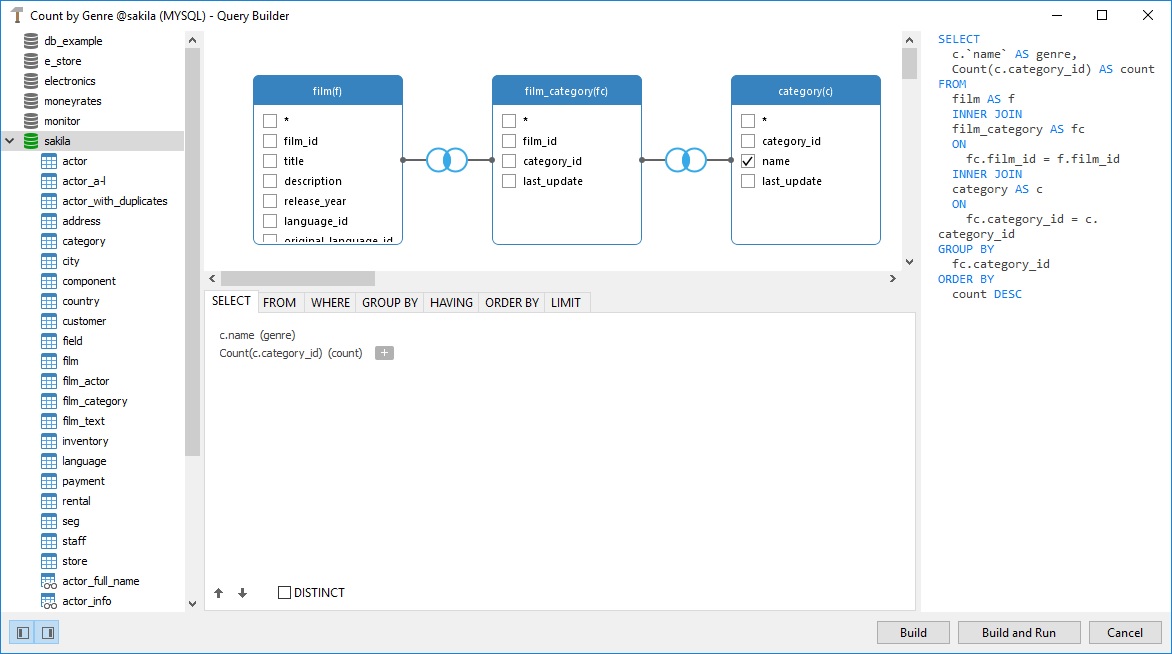 In addition to the new UI, Navicat 15 now supports subqueries to further fine-tune your query results.
Data Modeling
Navicat 15 includes the new and improved Data Modeler 3.0. The updated Data Modeler introduces a new mechanism for Database Synchronization, starting with a more intuitive way to visually compare and identify the differences between the model and database. It shows a side-by-side DDL comparison that makes locating all the object differences a snap.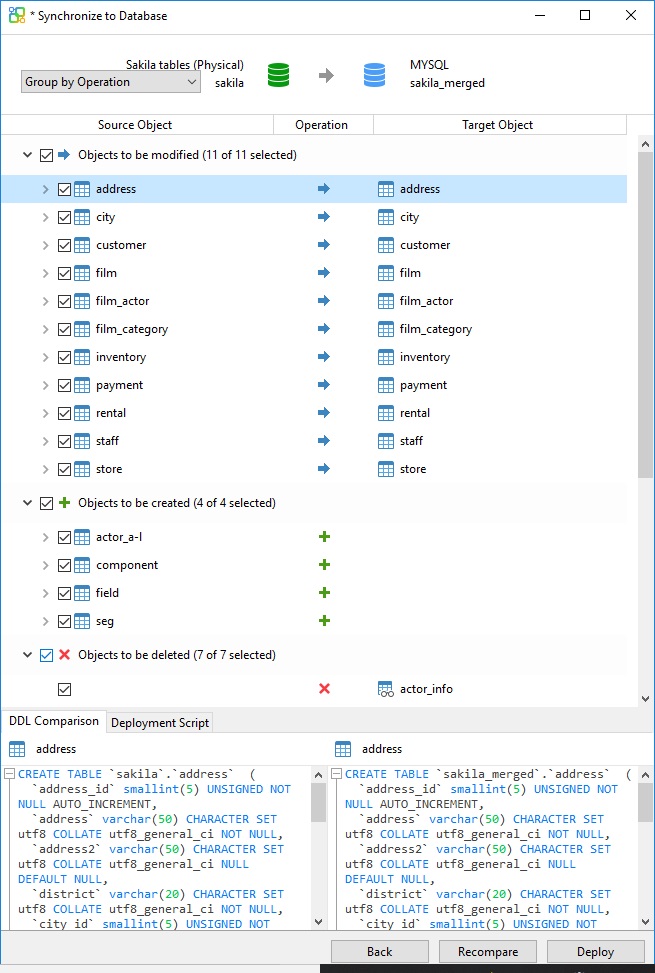 Once you're ready, you can choose and reorder your synchronization scripts to update the destination database.
Dark Mode
A lot of people find that bright themes, including the default white of Windows, make their eyes tired after many hours in front of the screen. For that reason, dark themes have become increasing prevalent in recent years. Navicat 15 gives you the choice between the traditional Windows (light) theme and the new Dark Theme. In contrast to the mostly whites of Windows themes, dark theme displays dark surfaces across the majority of the UI.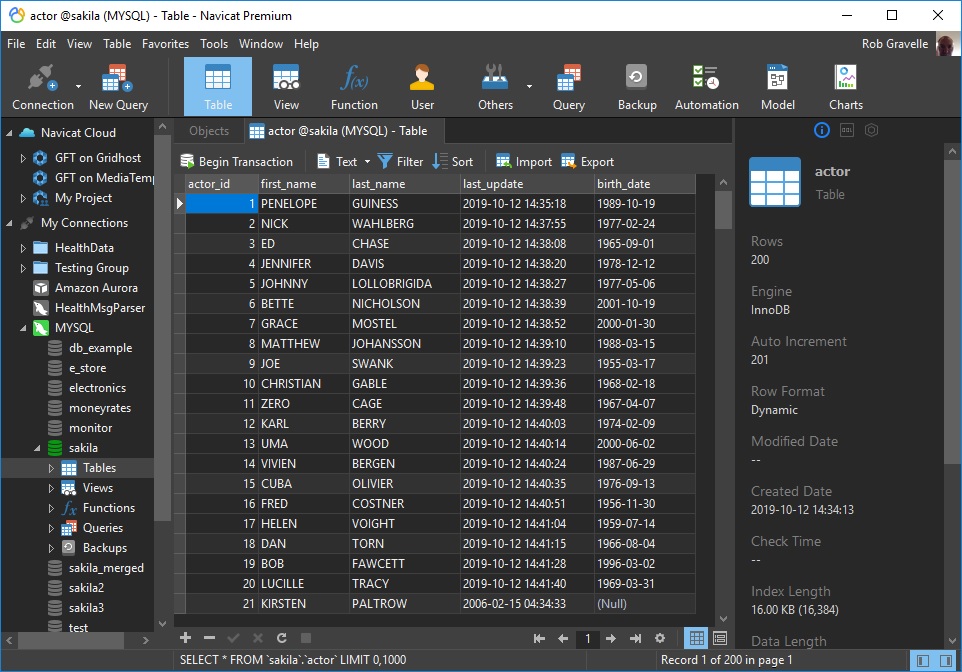 You'll find it on the General options screen.
Native Linux support
Whereas previous versions of Navicat Modeler required Wine to run on Linux systems, version 15 is a true Linux application, so users can now enjoy a UI that is more in line with other Linux apps!
Conclusion
In today's blog, we got a preview of Navicat Premium 15's most top new features and improvements. Why not download it and try it out for yourself? Here's a free 14 day trial!