Navicat Data Modeler 3
Functional and visual redesign. A completely new experience of data modeling.
Navicat Data Modeler 3 is a graphical tool that helps you build accurate predictive models quickly and intuitively, enabling users of all levels to create high quality data models with ease. It provides professional users with sophisticated features specific to their needs, but it is also easy enough for those new to modeling to get started with.
Accelerate and simplify data modeling tasks
Building a good data model can be difficult. Instead of making it more complicated, we keep everything simple and concise so that you can concentrate on your database design.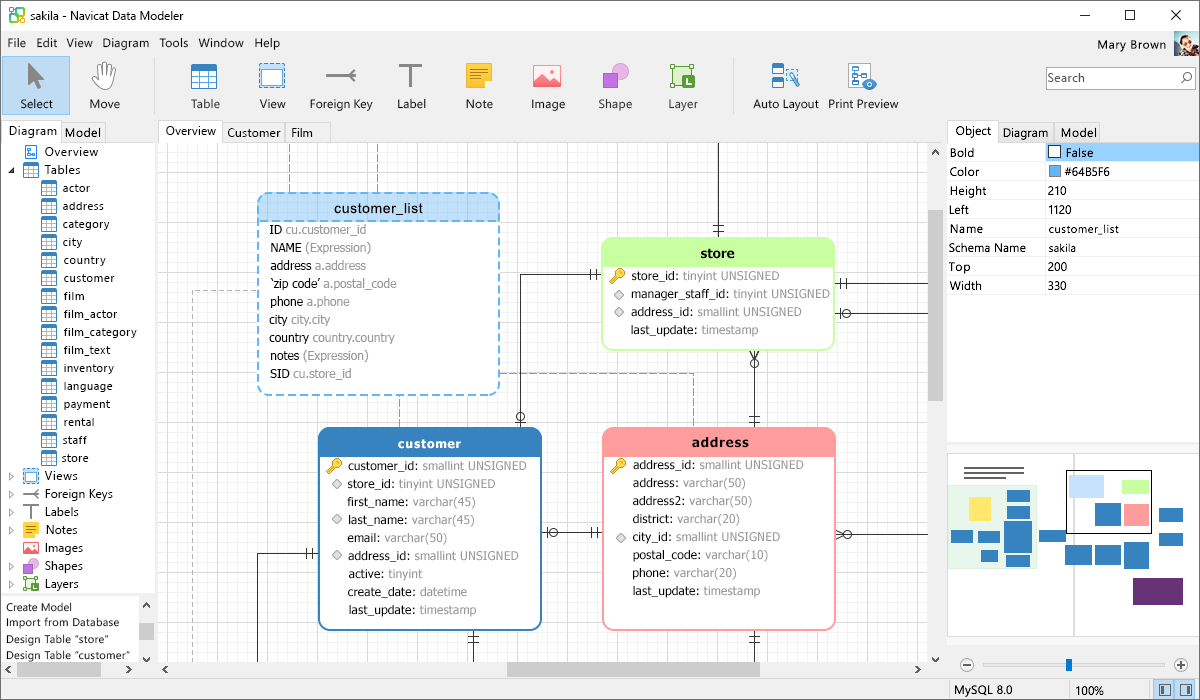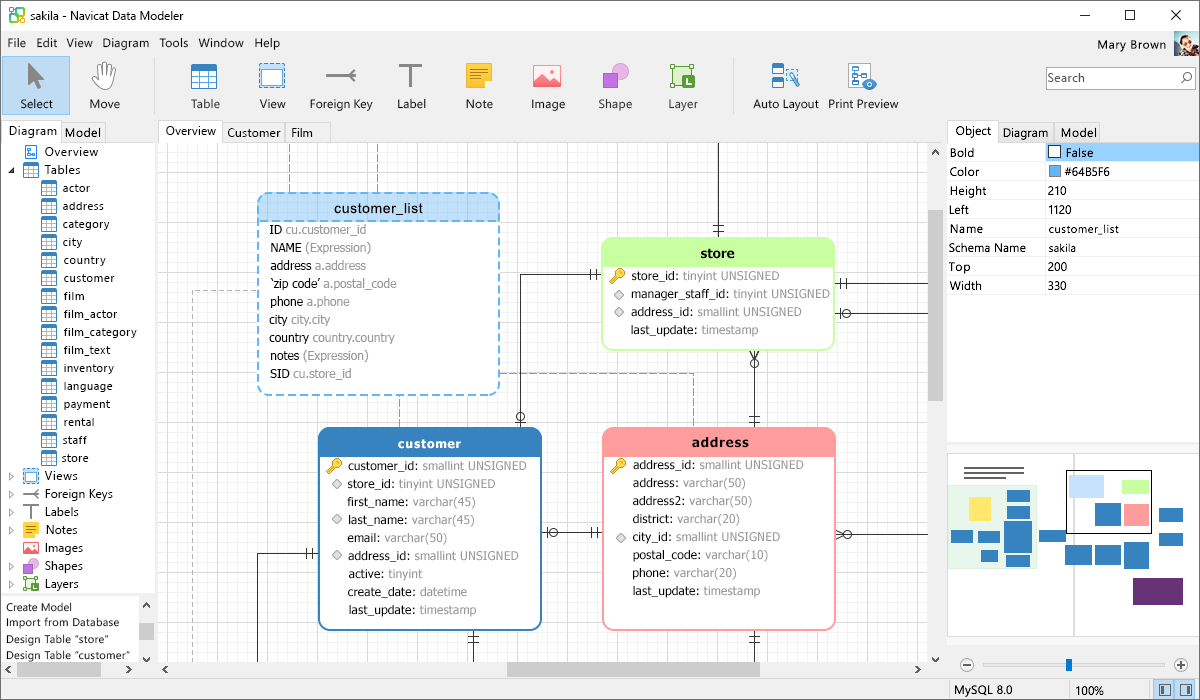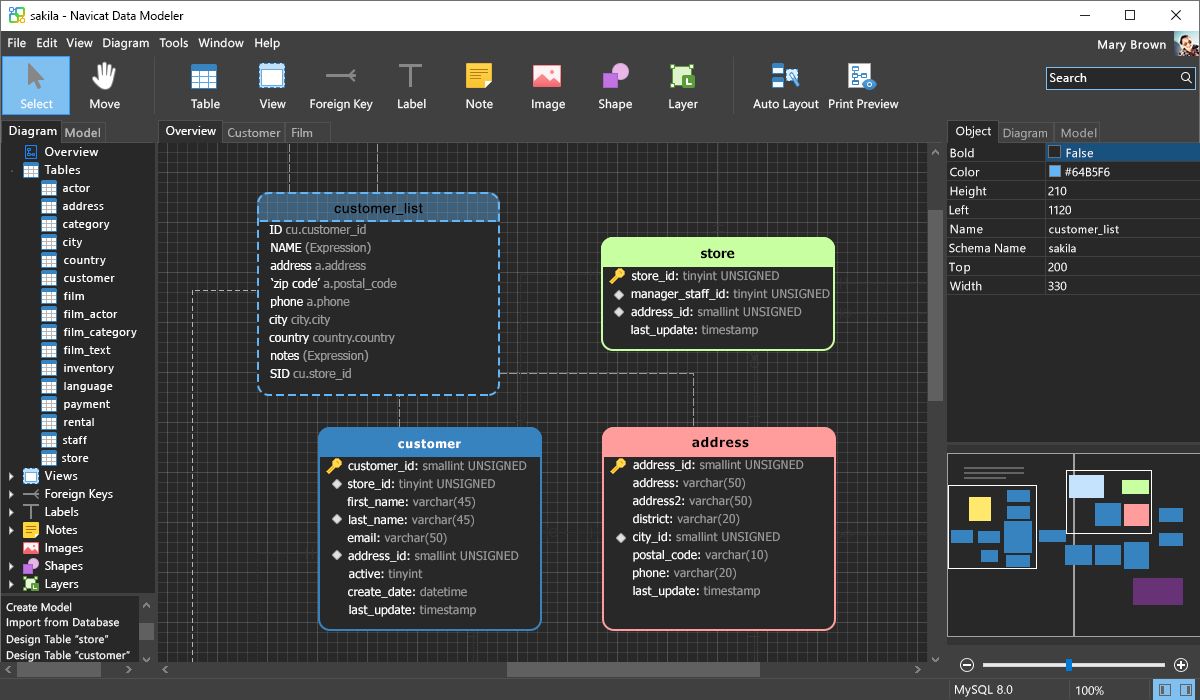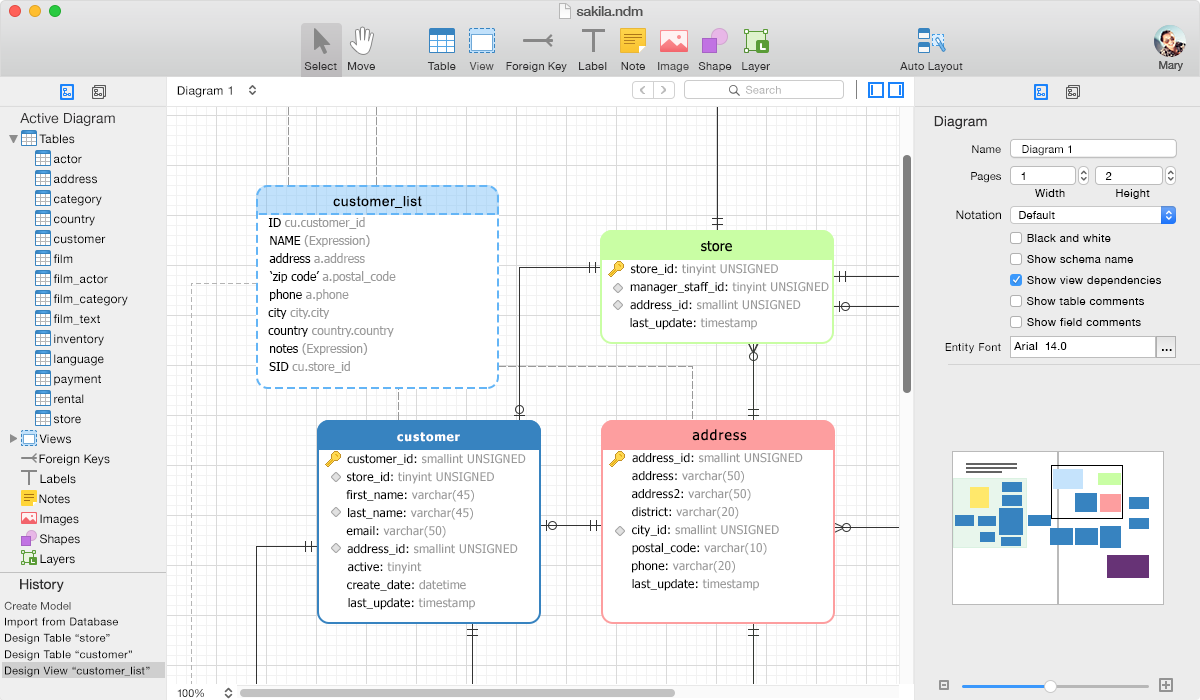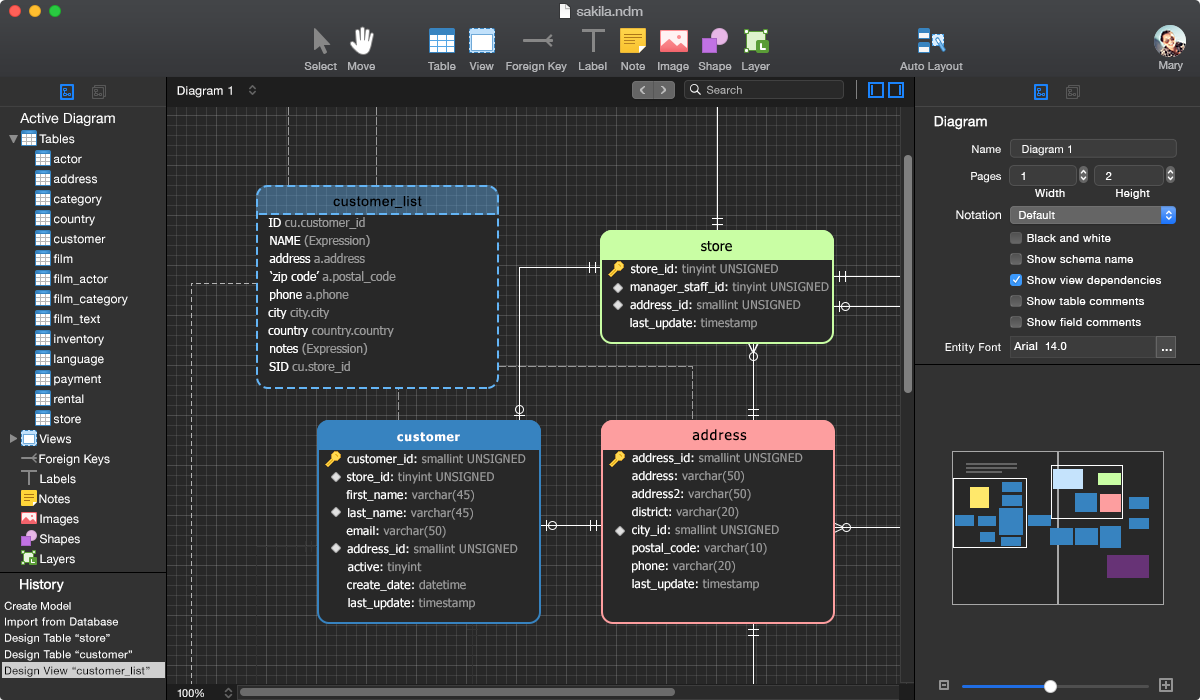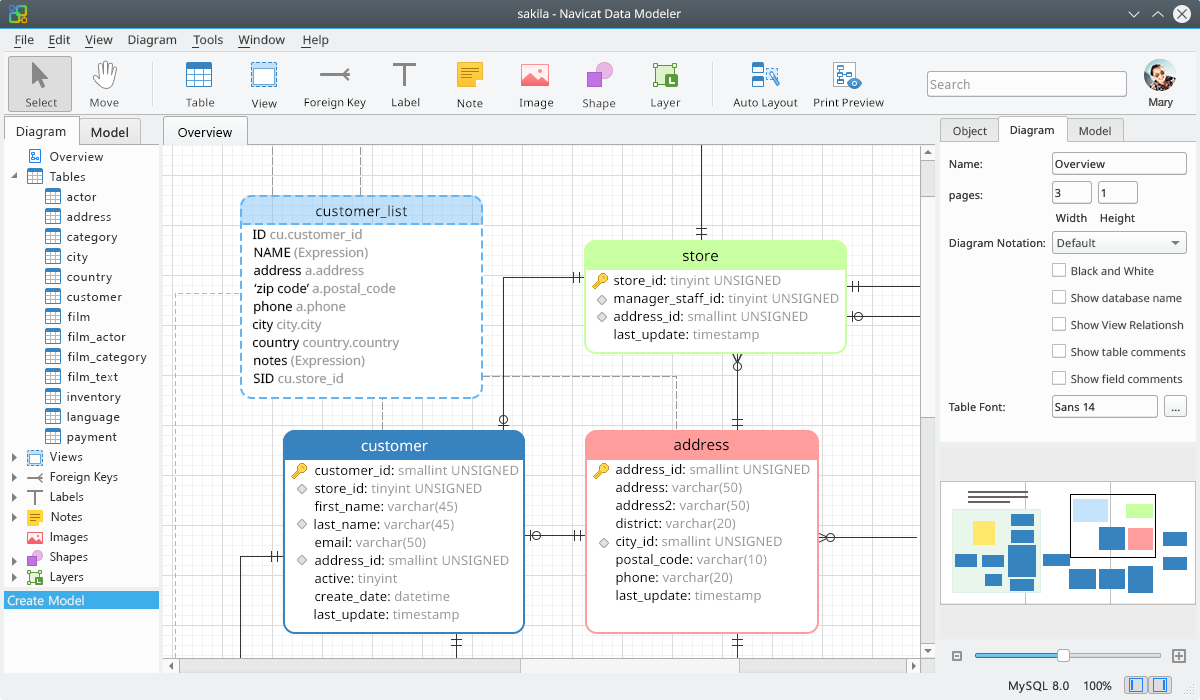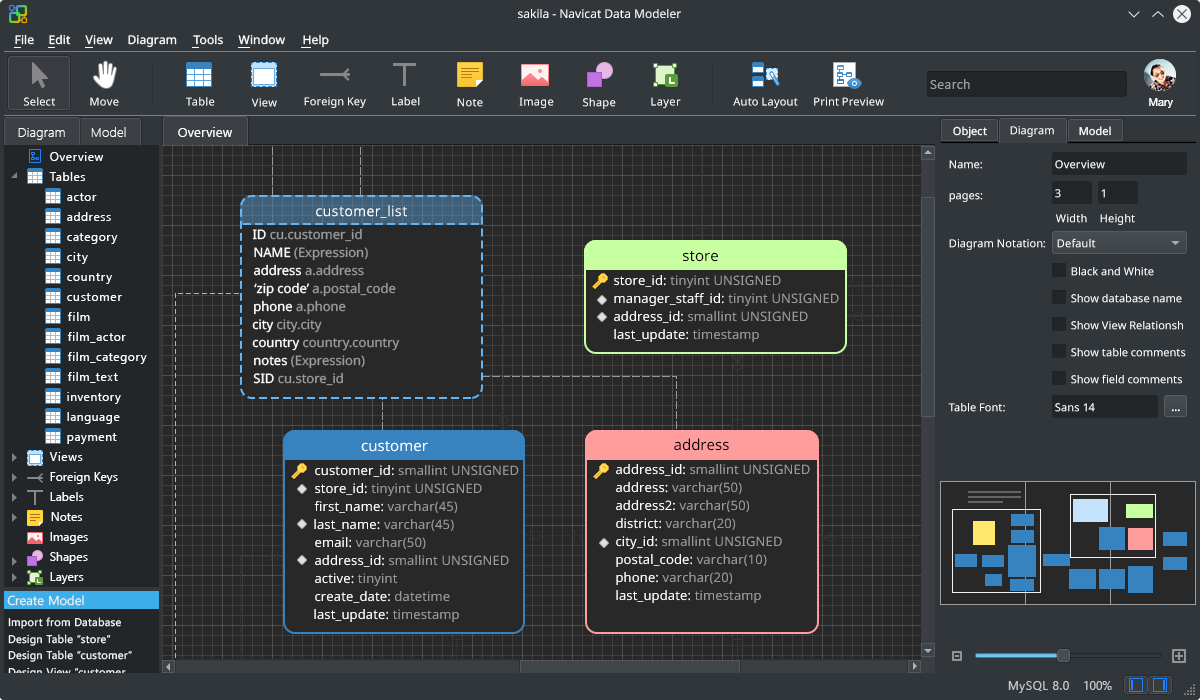 Simpler. Smarter. Faster.
Navicat Data Modeler 3 comes with an incredibly responsive and elegant design that enhances the performance and usability in order for you to get a simple and precise picture of your model easily without spending too much time learning the software.
Together with an accurate field type prediction feature and unlimited undo/redo capability, it reduces your development time and offers a quick and efficient way to create and edit your table/view structures.
Reduce costs, increase productivity
We've designed a collection of features for you to choose from. Whether you want to create new databases from a data model, or import a data model from an existing database. Here is the place.
Rapidly design your database model with the best modeling tools
Starting with designing a table/view, setting relations, or even inserting labels, notes and images for your model. It simplifies the complex design process and delivers a useful experience that can satisfy your needs, helping you to efficiently achieve your goals.

Reverse Engineering
With the reverse engineering feature, you can create models from existing databases with just a few simple clicks.
Using a step-by-step wizard, you can import existing database structures and create models from different sources such as MySQL, MariaDB, SQL Server, PostgreSQL, Oracle, SQLite, and even from an ODBC data source.
The resulting models graphically show the structure of a database so that you can see and organize data elements, such as tables, views and relations without showing the actual data.

Forward Engineering
With the forward engineering feature, your visual data model can be transformed into a physical database on any servers supported by Navicat Data Modeler - MySQL, MariaDB, SQL Server, PostgreSQL, Oracle and SQLite.
You can also compare your model with a live database to capture the differences in objects and properties, so that you can get a full analysis before expanding and upgrading your existing system.
Additionally, you can export a model directly to DDL script to streamline the process of writing SQL statements.
Significant improvement in synchronization
Compare objects before syncing your database
Modeler 3 introduces a new mechanism for Synchronize to Database function. It provides an easier and more intuitive way to visually compare and identify the differences between two models. And it shows side-by-side DDL comparison that makes it easy to locate all the object differences. Choose and reorder your synchronization scripts to update the destination database.
Communicate effectively in the workplace
Making data models intelligible to everyone, at all levels.
Tailoring your model to the stakeholders.
A well-designed model increases both efficiency and data quality, and can be easily understood by a wide variety of audiences.
Modeler 3 enhances communication and collaboration between business and information-technology professionals by providing the ability to design conceptual, logical, and physical models. You can draw your own shapes, lines and labels using the comprehensive range of drawing tools to enrich your model design.
Conceptual
(Business)
Logical
(Technical)
Physical
(Technical)
High-quality, accurate, and adaptable
Design an easy-to-maintain data model for your database.
A huge selection of modeling tools for your ideas.
Our new intuitive diagram editor offers an efficient way to create, design and overview your data models. Navicat Data Modeler 3 supports several diagram notations like Crow's Foot, IDEF1x, and UML to suit your needs.
You can save valuable time to build a highly customized model by using the auto layout feature, drawing and laying out diagrams, and the fully adjustable snap grid to resize and align objects. In addition to adjusting the color of each object, you can also create several diagrams in a single model and change the diagram database types.
Stay focused on your work
Dark mode support has arrived in our 3 update. Navicat Data Modeler now supports both light and dark interface styles. You can show a dark mode version as your default viewing preference.
Native Linux
Native Linux support is now added into our Navicat family. You can enjoy a UI that better matches with user experiences of the Linux system.
Navicat Collaboration
All your work, always with you.
Have real-time access to your data models.
Whether you are using Windows, macOS, or Linux, sync your model files and virtual group information to the cloud and stay productive wherever you go.
Start your 14-day free trial today.