Navicat Monitor is a safe, simple and agentless remote server monitoring tool that is packed with powerful features to make your monitoring effective as possible. Monitored servers include MySQL, MariaDB and Percona Server, and compatible with cloud databases like Amazon RDS, Amazon Aurora, Oracle Cloud, Google Cloud, Microsoft Azure, Alibaba Cloud, Tencent Cloud and Huawei Cloud. Navicat Monitor is a server-based software which can be accessed from anywhere via a web browser. With web access, you can easily and seamlessly keep track of your servers around the world, around the clock.
Agentless Architecture
Navicat Monitor applies agentless architecture to monitor your MySQL, MariaDB and Percona servers, and collect metrics at regular intervals. It collects process metrics such as CPU load, RAM usage, and a variety of other resources over SSH/SNMP. Navicat Monitor can be installed on any local computer or virtual machine and does not require any software installation on the servers being monitored.
Navicat Monitor requires a repository to store alerts and metrics for historical analysis. The repository database can be an existing MySQL, MariaDB, PostgreSQL, or Amazon RDS instance.
Real-time Performance Monitoring
Navicat Monitor includes a rich set of real-time and historical graphs that allow you to drill down into server statistic details. It gives you a detailed view of each server load and performance regarding its availability, disk usage, network I/O, table locks and more, which allows you to easily track the deviations and traffic among servers, as well as examine possible solutions and adjust your server settings.
Get summary in one place
Our interactive dashboard lists all the monitored instances and allows you to easily see how your instances are currently functioning. It also gives you an overview of the performance, availability and health of each instance.
Compact View
Comfortable View
Print eye-catching reports
Collect metrics of multiple instances on the same chart to compare and analyze data, and generate professional reports at incredible speed. You can also save your report as a high-quality PDF document with one click.
Alert
Navicat Monitor provides advanced root cause analysis that enables you to drill down and find more in-depth information when an issue is found - server metrics, performance statistics, hardware usage, and historical data. You can also monitor your alerts in Alert Details, which provides an overview of the selected alerts that comprises its summary, timeline, metric charts, and more. With the build-in Alert feature, you can get notified before bigger problems arise to ensure your databases are constantly available and performing in an optimal manner.
Customize your alarm system
Set custom alert thresholds to monitor your infrastructure. Receive alerts when the threshold rules that you defined are reached. For example: when CPU utilization exceeds 90% for more than 30 minutes.
Query Analyzer
Monitor your queries in real time to quickly improve the performance and efficiency of your server. This powerful Query Analyzer shows the summary information of all executing queries and lets you easily uncover the problematic queries, such as identifying top queries with cumulative execution time count, slow queries with unacceptable response time, and detecting deadlocks when two or more queries permanently block each other. Navicat Monitor summarizes queries smartly so you get to see how many and which types of query are causing trouble.
Replication
Apply schematic diagrams to visually represent the relationship between master servers and slaves. You can monitor the overall health of a replication topology as a whole, each individual node, and each replication subsystem to make sure the data on the replicated servers is always up to date.
LDAP/AD Authentication
Save time to set up a new and different security method by configuring Navicat Monitor to authenticate with LDAP server or Active Directory.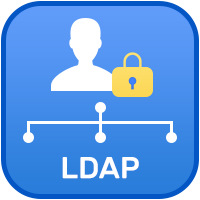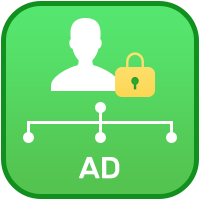 Roles Manager
Set up user access rights and restrictions by assigning roles to users. Roles can be mapped to any users like external LDAP/AD users or the local users created in Navicat Monitor. Customize the pre-defined roles to best fit your needs or create new roles with customized privileges settings to restrict access to selected pages in Navicat Monitor.
Manager
The manager is an administrator who has unlimited access to Navicat Monitor functionality. The privileges of this role are non-editable.
DBA
The DBA is a lead role who handles the administrative responsibilities for monitoring the servers including user account management, configuration changes and more.
Operator
The Operator is a basic role who can view all pages except configuration changes. This role is valuable for users who needs to monitor servers and handle alerts, but not configure the settings.
Instances Management
Organize your servers into groups to make it easier for users to find them by category. Assign users to specific groups as members and apply the same alert configuration settings to them effortlessly. All members will get notified when an alert is raised.
Migration
Export your Monitor settings if you wish to migrate your application server from one computer to another new machine. The output of the backup script will be a zip file with all required configuration files and settings for the restoration.
Monitored Targets

MySQL 5.1.73 or later

MariaDB 10.0 or later

Amazon AWS

Oracle Cloud

Alibaba Cloud

Google Cloud

Microsoft Azure

Tencent Cloud

Percona Server

Hauwei Cloud

Amazon AWS

Oracle Cloud

Alibaba Cloud

Google Cloud

Microsoft Azure

Tencent Cloud

Percona Server

Hauwei Cloud
System Requirements

Windows

Microsoft Windows 8, Windows 8.1, Windows 10, Server 2008, Server 2012, Server 2016

macOS

Mac OS X 10.10 Yosemite, Mac OS X 10.11 El Capitan, macOS 10.12 Sierra, macOS 10.13 High Sierra, macOS 10.14 Mojave

Linux

Red Hat Enterprise Linux 6.6 or later, CentOS 6.6 or later, Oracle Linux 6.6 or later, Fedora 20 or later, Debian 8.0 or later, SuSE Linux Enterprise 12 or later, openSUSE 42.3, Ubuntu 14.04 LTS, 16.04 LTS or 17.10, Amazon Linux 2

Docker

Docker 17 or later

Free BSD

FreeBSD 10.4 or later
Supported Browsers

Firefox
(Latest Version)

Chrome
(Latest Version)

Internet Explorer 11 or later

Microsoft Edge 39 or later

Safari 9.1.3 or later
Navicat Cloud
Navicat provides users with our Navicat Cloud service. Sync your connection settings and queries to the cloud so you can get real-time queries and connections anytime and anywhere. With Navicat Cloud, you can leverage every minute of your day to maximize your productivity. Learn more ›
Secure Connection
Navicat allows you to establish secure SSH sessions through SSH Tunneling, ensuring strong authentication and secure encryption between two hosts. The authentication method can use a password or a public/private key pair. Navicat also comes with HTTP Tunneling, allowing you to bypass ISP restrictions on direct database server connections.
Object Designer
Create, modify, and design database objects using professional object designers, available for all database objects such as Tables, Views, Functions/Procedures, and Events. Without the need to write complex SQL to create and edit objects, you'll know exactly what you are working on.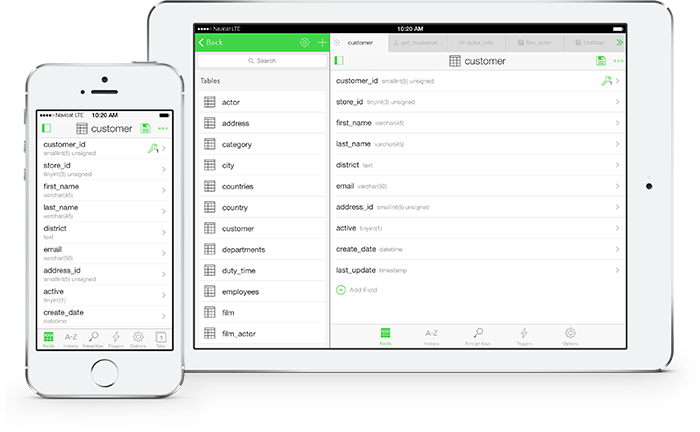 Table Viewer
Grid View
Add, modify, and delete records using Grid View. Navigate the Grid View with spreadsheet-like features, such as sorting and searching, or use our assistant editors like memos, images, and more.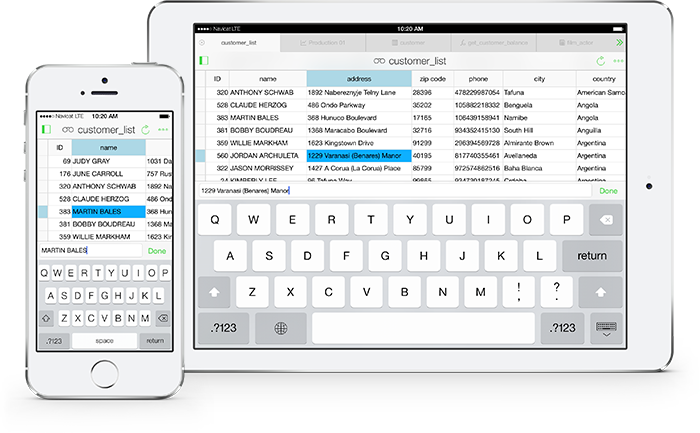 Foreign Key Data Selection
Use foreign key relationships in your database to anchor referenced lookup tables and automatically create dropdown lists. Without the need to constantly reference a master table, you can optimize your workflow and productivity.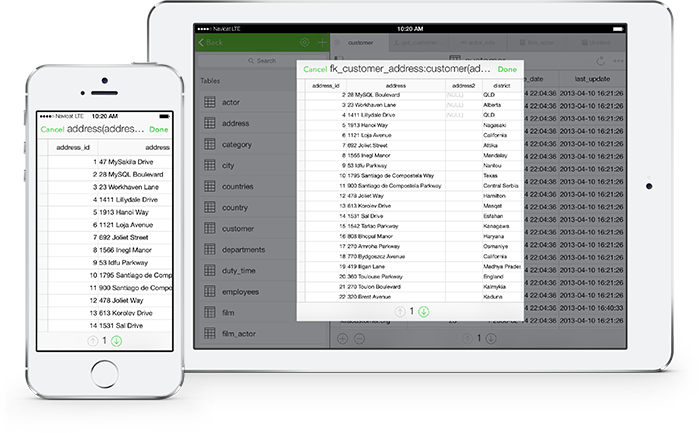 SQL Builder/Editor
SQL Builder
SQL Builder allows you to create and edit queries/views without having to worry about syntax and proper usage of commands. Just choose the operation you would like to perform on the tables, and it will write the SQL statements for you.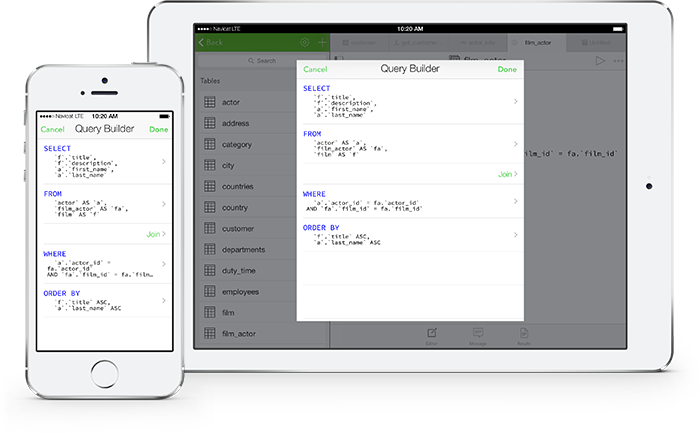 Code Completion
Quickly construct SQL statements in the SQL Editor with our code completion feature. Whether you want to select properties of database objects or SQL keywords, all it takes is a pick from the suggestion list.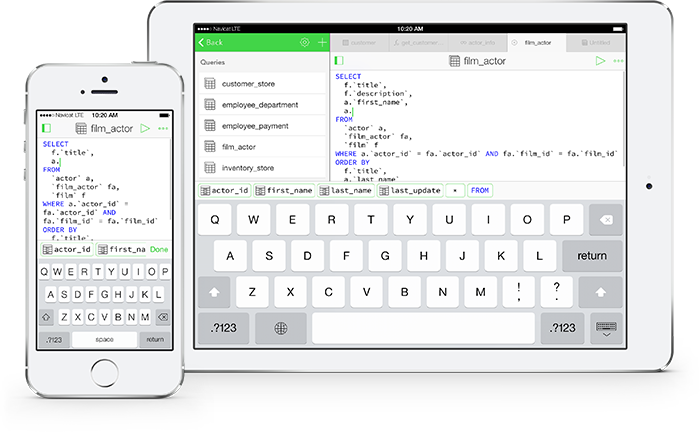 Useful Tools
Tree/Object Filter
Use the Tree/Object Filter to narrow the list of displayed database objects. Simply type in the text and only objects that start with the specified string are shown.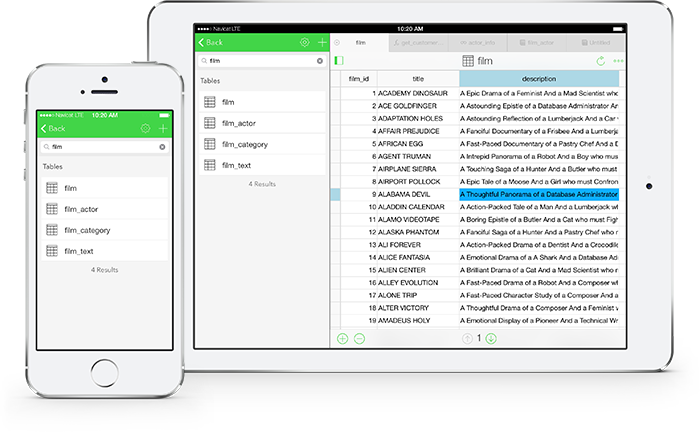 System Requirements

iOS

Compatibility: Requires iOS 7.0 or later. Compatible with iPhone, iPad, and iPod touch.
This app is optimised for iPhone 5, iPhone 5C, iPhone 5S, iPhone 6, iPhone 6 Plus, iPhone 6S, iPhone 6S Plus, iPhone SE, iPhone 7, iPhone 7 Plus, iPhone 8, iPhone 8 Plus, and iPhone X.